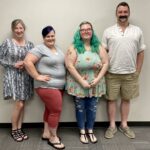 Meet your 2023-2024 HCMPL Friends Officers
President – Fallon Fulkerson
Vice President – Sarah Orange
Treasurer – Chris Schwiezer
Secretary – Danielle Almon
A note from our President:
Dear Valued Community Member,
Are you looking for a way to get more involved with the library? Looking for ways to benefit from the library outside of checking items out? A great way to do both is by joining Friends of the Hopkins County-Madisonville Public Library. Friends groups are critical to the success of our library system; they support the branches financially and expand our effectiveness in the community. The process to register as a member or renew a current membership is quick and easy. All it takes is a simple form and a membership fee. There are five different types of membership. Student and senior citizen are both $10 each. An individual membership costs $15. Family cost is $25. A Lifetime membership costs $150. We hope you will consider joining today!
The Friends of the Hopkins County-Madisonville Public Library is a group of community volunteers committed to:
·         Advocating for quality library services for all the people of Calloway County
·         Supporting the library through fundraising
·         Enhancing public awareness of the library and its services.
·         Membership is open to any person who supports the purpose of the Friends and who pays the required annual dues.
Some Friends' Activities:
·         Book Sales
·         Annual membership meeting
·         Library staff appreciation events
·         Speaker and author presentations
·         Sponsorship of programs for children, teens, and adults
·         Various educational endeavors to enhance library programs and services.
Friends groups do many things. They sort donations, hold book sales, increase community awareness and support for the library, encourage gifts and endowments, volunteer their time and energy, support programs, and advocate in the community, to name just a few. Your efforts are part of what makes HCMPL successful. Your contributions are valued, and we know we are fortunate to have your continued support going forward. Thank you for everything you do.
The Friends of the Hopkins County-Madisonville Public Library will have an open business meeting on Thursday, July 27th, at 6pm to discuss current and upcoming business, including membership recruitment. Directly after the business meeting, we are excited to welcome Luther Dowell and his Chautauqua Presentation of Harland "Colonel" Sanders. This experience is sponsored by the Friends of the Library, the National Endowment for the Arts, and the Kentucky Humanities Council. Doors will open at 5:30 PM with light refreshments being served.
Thank you for your time and we hope to see you Thursday, July 27th!
Sincerely,
Fallon Fulkerson
President, Hopkins County-Madisonville Friends of the Library