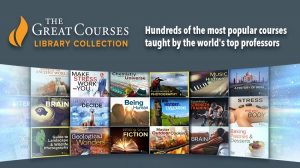 The Great Courses Library Collection offers engaging and understandable lectures by esteemed professors, professionals, and experts in topics ranging from photography to physics, astronomy to art, history to health, and everything in between, you're sure to find courses that interest you. Each lesson is about 30 minutes in length—tune in to test out any lesson or course for the first few minutes, or for as long as you want.
Using your library card to access The Great Courses Library Collection gives you seven days of unlimited access. Use the Libby app or website any time you want another 7-day pass.  (This content is exclusively being offered in Overdrive's Libby app and will not appear on the older Overdrive website https://kyunbound.overdrive.com/boone-hopkinscounty/.)
---
Click "Access" to Get the Libby App and Start Using The Great Courses Library Collection on Your Device, or Click Here to Use the Desktop Version.  Once You're Logged In, Scroll Down to "Extras" and Select The Great Courses from the Listings.
Note:  HCMPL card holders can also access more Great Courses videos through Hoopla Digital.
---

Visit the website to learn more and try Libby for yourself, or ask a librarian for assistance in getting the Libby app set up and ready to use!