Registration Open May 30th -June 30th
Why Summer Reading?
Studies show that children who don't read during the summer will regress and be less prepared when school starts. This is commonly referred to as the "Summer Slide." Most students show losses in math, and students from low-income households tend to show significant losses in reading and spelling.
To combat Summer Slide and ultimately succeed in school and life, the National Summer Learning Association states that children need opportunities to learn and practice academic and social skills throughout the summer months.
The NSLA suggests enrolling students in high quality summer programs to engage them in learning new skills, encourage them to develop previously unseen talents, help them stay fit and active, and foster creativity and innovation.
Check out our 2021 Summer Reading Program Guide and Bingo Sheets below!
2021 Summer Reading Program Guide
Register for Summer Reading at either library location (Madisonville or Dawson Springs) or on the library's website www.publiclibrary.org.
Read whatever you want and interpret the prefilled squares as you will.
Teens and Adults, fill in the blank spaces with reading activities. Not too sure what to do? Ask a library staff member for some ideas.
Pick up bingo sheets at either location or print from the library's website.
Traditional bingo rules apply.  Five (5) in a row in any direction counts as a bingo (vertical, horizontal, diagonal).  Each square represents 15 minutes of reading or activity time unless otherwise stated.
One (1) bingo per sheet.
Turn in completed bingo sheets at either library location or snap a pic and send to hcmplsrp@gmail.com or Facebook messenger.
Seven (7) bingos = Completion of the Summer Reading Program!  Feel free to do more.  For every sheet turned in over the required seven (7), gets your name entered for the Grand Prize drawing of a $75 Walmart Gift Card and other Prizes at the finale!
Preschool – 5th Graders may pick out prizes from the prize box for each bingo they turn in.
Weekly prize drawings will also take place for Teens and Adults, so the more bingos you turn in the bigger your chance to win!
Last day to turn in completed bingo sheets at either library location is Saturday, July 31 by 3pm.
Activities
Grab-n-Go Crafts:
Every week starting June 13, stop by either library location for a special-themed craft bag.  Each week features a different craft for at-home summer fun.
Social Media Challenges:
Each Sunday starting June 13, check out our social media and website for a fun weekly challenge for all ages.
Dates to Remember
Summer Reading Registration:  May 30-June 30
Animal Tales at Madisonville City Park:  Sat., June 26; 1:00 PM
Animal Tales at Dawson Springs City Park: Sat., June 26; 4:30 PM
Parking Lot Bingo at Dawson Springs Branch Library with Dibby's Ice Cream  Truck:  Fri., July 16; 5:30-7:00 PM
Parking Lot Bingo at Main Library in Madisonville with Dibby's Ice Cream Truck:  Sat., July 17; 4:00-6:00 PM
Summer Reading Program Finale – Drive-In Movie Night at Main Library:  Sat., Aug. 7; time:  TBA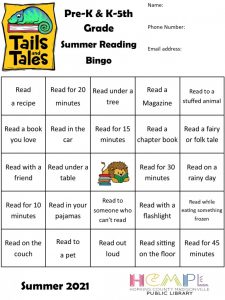 Pre-K & K-5th grade Bingo Sheets
(Click image and save)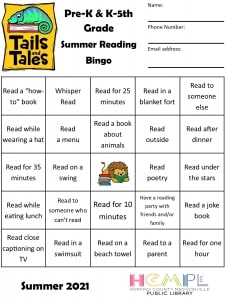 Pre-K & K-5th grade Bingo Sheets


(Click image and save)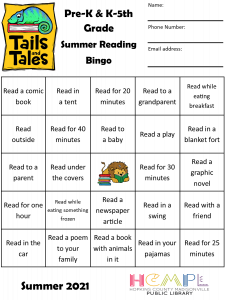 Teens & Adults Bingo Sheets
(Click image and save)

Teens & Adults Bingo Sheets


(Click image and save)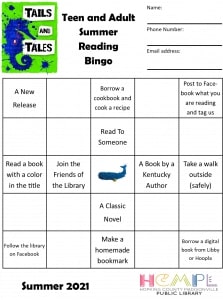 Teens & Adults Bingo Sheets
(Click image and save)